1. In an event-driven simulation, time is advanced in non-uniform steps whose sizes depend on when event occurs.
2. It responds to each i/p event by executing a sequence of simulation cycles that determine when and to what values the simulated system's signals change.
3. Advantages:
Eliminates the need for the simulator to evaluate the model at empty time steps (those without events) that are evaluated in time – driven simulation.
Faster and more precise simulations.
4. An event-driven simulator performs three steps to accomplish a simulation:
elaboration

initialization

repeated execution of simulation cycles
5. Elaboration:
Elaboration is the creation of a simulation model for a design entity from its VHDL description.

This simulation model resides in the host computer's memory.

This simulation model

consists of a net (network) of simulation processes.

During elaboration, all concurrent statements are converted to equivalent simulation processes.

During elaboration, for each signal assigned a value in a simulation process, a signal driver is created. This signal driver is associated with the simulation process containing the signal assignment statement.
6. Initialization: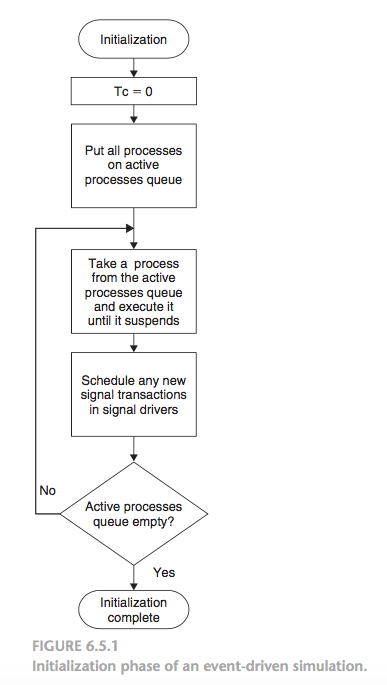 After elaboration is completed, simulation consists of an initialization phase followed by repetitive execution of simulation cycles.

At the beginning of the initialization phase, the current time (Tc) is set to 0

The kernel places all of the simulation processes in the active processes queue. Each simulation process is then taken from this queue and executed until it suspends.

A simulation process is suspended either implicitly or explicitly.

A process with a sensitivity list is suspended implicitly after its sequential statements have been executed to the end of the process.

A process with one or more wait statements is suspended explicitly when its first wait statement is executed.
7. Simulation Cycles:
After the initialization phase, all simulation processes are in their suspended states. The first simulation cycle is then executed.

A simulation cycle consists of two phases:

Update phase

: The update phase first determines the next value for the current simulation time and advances the simulator clock to this value. Based on this new simulation time, a determination is made as to whether the simulation is complete.

Execution phase

: During the execution phase, each simulation process in the active processes queue is taken from that queue and executed until it suspends.
Reference: VHDL for Engineers by Kenneth L. Short